NA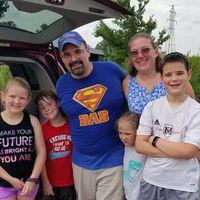 8.50
Played this 9 months after launch on Xbox Game Pass. Even coming off of Halo Infinite, the gunplay in Outriders was really fun. The unlocking of new skills and weapons/armor is extremely satisfying. And while each new gun or new armor piece is only a little better than the last, it feels like you are constantly getting stronger, getting new buffs, or being tempted to try different gun mod combos. As a sci-fi fan, I really enjoyed the story. It won't win any awards, but I really grew to like the characters. And near the end, I made a guess of what I expected the end to be only for People Can Fly to pull a good unexpected twist. I loved how the combat was extremely fast paced, especially in comparison to Gears. If a story expansion is released, I will very likely return to this game.
Aggregate Gamer Reviews
8.00
t's brilliant in spite of its myriad issues, so once those are sorted, Outriders stands to be something truly special. While Square has made it clear that it isn't intended to be a live service game, we'd be all over additional content down the line that lets us see more of Enoch and push our preposterous powers even further. An incredible get for Game Pass and a superb game in its own right (issues aside), Outriders is comfortably one of the best games of the year so far, and it's only going to get better as the post-launch polish puts paid to the technical problems that currently hold it back from true greatness.
7.00
If you're willing to overlook some questionable design choices, there's plenty of fun to be had with Outriders. Despite its numerous flaws, Outriders manages to provide loads of incredible, over-the-top fun.
7.50
This game has no roadmap to wait on or microtransactions to dodge, as People Can Fly has focused solely on making a damn good third-person co-op shooter with a huge variety of weapon and ability combos that keep the action aggressive and satisfying. Sure, it doesn't innovate in any huge way and its many flaws are tough to ignore, but Outriders is a blast from a simpler past and I love that.