8.20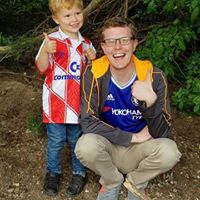 7.00
Good game as I love old school sonic games. Felt it was a little too hard though and not enough extras to entice newbies
Aggregate Gamer Reviews
9.00
Sonic Mania methodically uses its sentimental appeal to great effect, but in the process, it heals the wounds inflicted by its most disappointing predecessors and surpasses the series' best with its smart and interpretive design. An excellent 2D platformer, Sonic Mania goes beyond expectations, managing to be not only a proper evolution of the series' iconic formula, but the best Sonic game ever made.
9.00
The new Angel Island Zone is just icing on the cake. If you've already played through Sonic Mania before, there's ample reason to pick Sonic Mania Plus up too, especially if you're a fan of the Blue Blazer. There's enough new content to digest, and the art book is pretty great, even if it's just a little trinket. Now... how long do we have to wait for a proper sequel?
9.00
Sonic was never really about the 'tude or furry friends, but it was about precision arcade platforming and an immense style all its own. The Taxman and his friends understand this more than Sega has in a long time and brought us the best Sonic game of all time because of it. I can only hope that this game is the first in a long line of grand new adventures for the Sonic we all love.