PS5
Kena: Bridge of Spirits
NA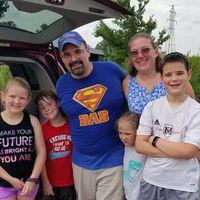 8.20
At the time that I played Kena, I had never played a Souls like game. Reviewers were quick to point out that the fighting was truly a challenge. I enjoyed the challenge so much that it made me think about playing a Souls game. The game is absolutely stunning. Probably the most beautiful game I've ever played. It's is helped thta this game was made by an animation study and that the world has very few characters. So density is very low.
The challenge and journey does become a repetitive near the end. You've got to go to three locations and fight three bosses and then fight a big boss. And sometimes what you need to do next is not super intuitive. I highly recommend this game. It's not the same price as a full AAA game but gives you a fairly full AAA experience.
Aggregate Gamer Reviews
7.70
Where Ratchet & Clank: Rift Apart took an old formula and brought it into the modern era, Kena: Bridge of Spirits' approach was more adherent to the old ways. The technical aspects are phenomenal and thoroughly current, but the game itself relies heavily on the old way of doing things. Limited paths. Contrived situational limitations. Collectables galore. You likely already know if that's something you're interested in playing, and I personally believe they've done an admirable job here. Especially for a first crack.
It is startling to think that one of the best games of the year has come in the form of a title that looks like something you would put on to amuse kids for a morning. Yet Kena: Bridge of Spirits boasts more heart and genuineness than many games could hope to exude. What Ember Lab has produced is a rejuvenation of the indie market, proving that the little guys can box with the best. For anyone looking for a game that will bring a smile to their face, Kena: Bridge of Spirits is not to be missed.
8.00
Kena: Bridge of Spirits is a wonderful first game from Ember Lab, combining its outstanding pedigree in art and animation with some really solid combat, fantastic world design, and a great balance of action, platforming, puzzle solving, and exploration. The result is an open-world action-adventure that harkens back to the days of the N64/Gamecube-era Zeldas, Okami, and Star Fox Adventures, while also adding some modern sensibilities and a distinct personal touch. It is elegant in its simplicity, though sometimes that simplicity left me wanting more options to vary up my combat approaches, and I never got to know Kena herself as well as I wanted to. Even so, outstanding enemy variety and intense, memorable boss battles more than carry it through its nine-hour adventure.