PS5
FIFA 21 NXT LVL EDITION
NA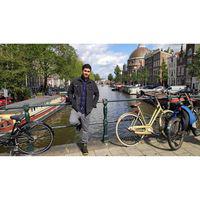 3.00
its almost same as ps4 pro nothing new except for trigger effect and vibration graphics not as good as they advertised
Aggregate Gamer Reviews
6.00
FIFA 21's next-gen visuals speak for themselves as the player models are absolutely gorgeous. This is mainly shown off in the cutscenes, but even the visuals on the field seem cleaner and more detailed. The gameplay on VOLTA matches feel faster and you can pick up where you left on the previous generation. Otherwise, everything is a one-to-one copy and paste.
8.00
This is a substantial package that's propped up by exciting gameplay that puts the onus squarely on attacking football. There are moments of frustration on defense when the balance doesn't feel quite right, but then you'll go down the other end and score a Puskás Award contender that makes you forget why you were mad in the first place.
8.00
FIFA 21 on PS5 is a surprisingly significant next-gen upgrade. Simply put, this is the best that virtual football has ever looked on PlayStation, and a slew of immersion-enhancing features make it the best version of FIFA in years.