Gamer Reviews
3059 Reviews
8.73
NA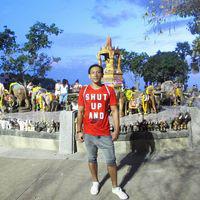 7.00
The reason I bought the game is because it was on sale and they have 2B from Nier:Automata and also they have a character creator that you can make Ling Xiayou (cosmetics) from Tekken.
Even though it is fun enough, it's totally a new game for me which I'm not familiar at all. I just play it casually sometimes in the arcade mode. Also I haven't figured out how to make my Xiaoyu cosmetics!
Not sure if I'm even going to bother playing the campaigns and ranked.
7.70
I'm not really a fan of fighting games, but this one felt pretty nice to play. It isn't hard to play, character customisation is amazing, with you being able to do much more stuff than it seems you should. There is a wide variety of weapons and they keep adding more through DLCs, not really that expensive but not cheap either. The main story where you create a character is average. It's not actually bad, like I expected, but it's not a masterpiece either. The other story mode is really interesting: fully voiced acted, you follow the path that other characters you encounter in the main story take while your character was elsewhere. I haven't tried multiplayer, but I'd recommend to buy if on sale.
Aggregate Gamer Reviews
8.50
Soulcalibur VI is a solid entry in the long-running fighting franchise. The new Reversal Edge mechanic gives everyone a chance at a comeback, with a balanced risk that their move may backfire on the player who invoked the move. A decent campaign is paired with a beefier custom story mode, to provide for dozens of hours of gameplay, even if most of the cutscenes are more visual novel than actual cutscene.
8.00
As a course correction to an aging series, Soulcalibur VI is unimpeachable. More significantly, as a fighting game with a singular identity, this game could shed its name entirely and impress on its own merits. The game world is enveloping, full of posh art and luxurious conflict that evokes a waltz more than a brawl. The soul, against all odds, still burns.
I'm interested in seeing where the series goes from here — assuming it's going anywhere at all. The story is rebooted and already has connections to both 2 and 3; so will the next hypothetical game skip those events and head straight to 4's, go in order again or tell a new story altogether? The past is great and all, but after seeing what was done here, I can't help but feel excited about what comes next.