Gamer Reviews
3305 Reviews
9.58
9.61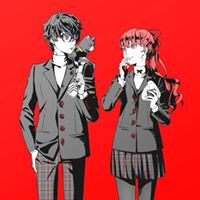 10.00
What to say? It's my all-time favorite but in a new light that reveals and fixes all the nitpick about the game and presents you with a 20/10 story that gives out a much better conclusion and presents possibly the greatest antagonist in Atlus history, amazing job well done and with the amount of improvements made and QoL upgrades done, replaying this game again was such an amazing experience as you can almost feel the new experience by Instinct for how smooth and fluid the game feels now compared to the already amazing P5.
This is a must buy for anyone looking to get to into JRPG's and yes it is worth the $60 price point as the new plot will really make you say everything you've done was worth it
20/10

10.00
Since I managed to get the game early, I've beat the game and got my kinda full review as when I finished the game, I had a lotta feelings I couldn't control, but let's start with the important stuff, is this game any different then the OG in term of the enjoyment?... Yes! And a another yes! The amount of new additions and QoL upgrades done in this game to improve the pacing and reduce the frustration not from replaying the game again, but even with reducing the frustration from the OG too, that's a big thing to do, but the madlads have done it, as I was going through the game, I could feel the new experience coming from the original story with the improvemts made to enhance them even further, very well made improvements and QoL upgrades to the game, and as I finally reached the new plot, I have to say something about it.... It's awesome.. Like SERIOUSLY awesome! Atlus have surpassed themselves with this new story and everything that goes around with it, the new antagonist is probably my favorite villian in all of Atlus's games, they the villian so elegantly and with masterful writing to make you question your own actions when your playing, everything that has to do with the new plot is SS-Tier stuff and trust me when I say, it's worth it to replay this amazing masterpiece once again, but now with awesome upgrades done to make you feel the enjoyment right from the start!
This is a true masterpiece and easily one of the greatest games of all time to me, and I HIGHLY encourage anyone who Played P5 but is a bit hesitant to buy it again, I repeat, it's worth the $60 price point and makes it worth it along the way with the awesome additions and enhancements done it.
10/10.
Aggregate Gamer Reviews
8.70
If you've never played Persona 5 before, then snatching up a copy of Persona 5 Royal is simply the best way to play this story. However, if you've already spent one year wearing the mask already, you might need to have a small change in your cognition to see whether or not it's worth a second playthrough.
10.0
In the end, Persona 5 Royal is basically a remixed ultimate version of Persona 5, following in the footsteps of Persona 4 Golden and Persona 3 FES. Fans of the series should rest assured that it's a worthy addition to the series and is, without a doubt, the way to play Persona 5 from here on out. Virtually everything you loved about the original game is not only in-place here, but improved upon. If you haven't given Persona 5 a chance yet, but enjoy JRPGs… boy, do I have a game for you!
10.0
Persona 5 Royal is many things: a collection of small inspiring stories, an ambitious harrowing journey with some good friends, a stunning visual and auditory experience, a resounding call to action. By refining what was already great and building on its best qualities with a brilliant new story arc, Persona 5 Royal asserts itself as an unforgettable and empowering RPG that should be recognized as one of the best games of our time.