PS4
Guacamelee! Super Turbo Championship Edition
Gamer Reviews
16908 Reviews
8.93
NA

7.30
I Give it 7.30 Because The Game It's Cool But There Any Guides To the story ?!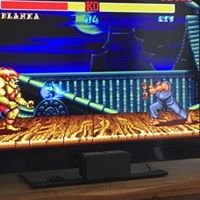 7.00
I enjoyed this game, elements were fun, artwork is nice but generally I found the constant melee fighting to be too much.
I know right, it's in the name. I should have known to expect it, but I just felt that at times I wanted to look around, discover and search for things to move the story forward and there just kept being these super busy fights that you were locked into; it just became a bit of a chore at times.
As ever, I like to get to the end of games like this, see the ending of the story, but I got to the end before collecting all the elements I needed so couldn't see the full story. I might go back to it and put a bit more time in, but it's not engaging me enough. The Metroidvania element is this game were not my cup of tea. I am playing Messenger at the moment and am absolutely loving the Metroidvania style second half of the game so I am not sure why I didn't enjoy Guacamelee.
Rated it as a 7, made well enough, play it if you have access to it, but I wouldn't recommend buying it if you have similar tastes to me.
Aggregate Gamer Reviews
9.00
Guacamelee 2! is everything one could ask for in a sequel. It packs in what everyone loved about the original, while building on it enough to make it well worth tagging into the ring for once again. Killer tunes, well-designed combat, and challenging bosses are all high points for a game that had a tough act to follow.
9.00
While I'm not increasing Guacamelee's score with this review, it is easily one of the best next-gen games you can own right now, especially considering the price. I know some reviewers don't take that into consideration, but with persistent cooperative play and plenty of exploration, genuinely fun combat, and gorgeous 1080p graphics, it's hard to find a better value for your digital currency of choice.
8.50
It does a lot of interesting things, and certainly offers up a good challenge. The dialog is clever, and uses many pop culture and video game references that made me smile. That, along with the wonderful art style and fantastic soundtrack, makes it a very good deal for only $15. It has some big difficulty spikes, but overall Guacamelee is still a very fun time.