PS4
Guacamelee! Super Turbo Championship Edition
Gamer Reviews
16908 Reviews
8.92
NA

7.30
I Give it 7.30 Because The Game It's Cool But There Any Guides To the story ?!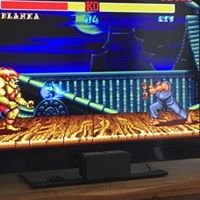 7.00
I enjoyed this game, elements were fun, artwork is nice but generally I found the constant melee fighting to be too much.
I know right, it's in the name. I should have known to expect it, but I just felt that at times I wanted to look around, discover and search for things to move the story forward and there just kept being these super busy fights that you were locked into; it just became a bit of a chore at times.
As ever, I like to get to the end of games like this, see the ending of the story, but I got to the end before collecting all the elements I needed so couldn't see the full story. I might go back to it and put a bit more time in, but it's not engaging me enough. The Metroidvania element is this game were not my cup of tea. I am playing Messenger at the moment and am absolutely loving the Metroidvania style second half of the game so I am not sure why I didn't enjoy Guacamelee.
Rated it as a 7, made well enough, play it if you have access to it, but I wouldn't recommend buying it if you have similar tastes to me.
Aggregate Gamer Reviews
All-in-all these are nice additions to a great game. However, I don't feel like enough has been added here to warrant a double purchase if you already own the original Guacamelee. Unless you want the game on a new-gen console, which would be understandable since the art style sings in 1080p, it might be best to just grab the DLC and keep your old version. If, however, you never played the original then Guacamelee Super Turbo Championship Edition is worth checking out, and is the definitive version of an enjoyable game
9.40
Guacamelee! Super Turbo Championship Edition takes one of the best games last year and makes it better. If you're a platform fan, a brawler fan, an action fan, hell, if you've ever eaten a tortilla, you owe it to yourself to give Guacamelee! a try. It's smart, stylish, and funny, all while being one of the most sharply tuned games around. Better yet, it's free for Xbox One Gold members this month. Go play it.
9.00
Ultimately, Guacamelee! Super Turbo Championship Edition is just like the original, with a couple of added tweaks — this is a good thing! ...If you never played the original and enjoy Castlevania-like beat-em-ups, then definitely pick this up. If you love lucha libre lore, then of course pick this up. Finally, if you are a fan of funny games, then don't hesitate to pick this game up and play!